Toby's & Mickey's
"Our Pictures"

Here's Jimmy!!!,
Gwynmor Mr. Jim Dandy

He was 10 weeks old when this photo was taken on 22 March, 2000.

This is Mickey,
Dorka van Huis Dalmatho

This photo was taken on her 11th birthday, 24 Jan., 1999.

This was Toby

He was 8 mos. old when this was taken. This web site first went online for his 12th birthday in Feb.1996. Toby went to Dog Heaven in Nov. 1996.

(Photo taken by Panman, Oosterwolde, Netherlands., Photo © Rosemarie Sweeny)

This is Djohno

This photo was taken on Mickey's birthday, 24 Jan., 1999.

Djohno again...

Ch. Djohn Deere of Dalbury's Clan, JW'92 W'92

He is as sweet tempered as he is handsome, and one of the happiest Dals you'll ever meet! He makes us and Mickey very happy again!

(Photo © Mrs. Femke van Tilburg, used with permission)

Nikita, our Russian Blue cat,

Nikita Romanoff van Kyzle Orda

Here he is in Dec., 1998, a month before his 11th birthday.
Nikita is great pals with our Dals - he likes to be with them, inside and out!
(He has never put his claws out to dogs, people or furniture!)
Here's Peggy, Mickey's person: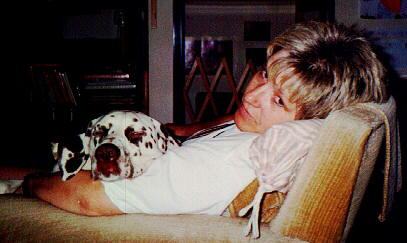 Here is our departed Dal Sheba (on the left with Peggy) . Sheba went to doggie heaven in 1991
That's Toby (on the right with Rosemarie) .
It was summertime in Hoorn, North Holland
(Photo taken by Patricia A. Carlton)

| | |
| --- | --- |
| checking things out on our daily walk in the woods | visiting the Friesian horses next to our place in the country... |


Rosemarie in 1990...


Rosemarie in April 2000...
(Photo taken by Pedrick Lowrey
on 28 April, Apeldoorn, Neth.)

send e-mail to Mickey-Djohno-and-Jimmy
... hushpuppy AT compuserve DOT com -that's where you can send questions or comments about this site...
---
COPYRIGHT NOTICE:
Unless otherwise noted, all photographs on this page were taken by, and are owned and copyrighted by Rosemarie Sweeny.
Photos on this page may not be reproduced for any purpose without the express consent of Rosemarie Sweeny.
---
Page created 14 Dec. 1996
---