Updated: 07apr2008
REVISED 07Apr2008

Toby's & Mickey's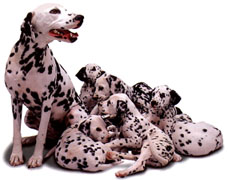 Links for Dalmatian breeders and kennels

07 April 2008
NOTICE:
Most all of the breeders sites that I have previously linked to on this page were certainly reputable and reliable. However, I have decided to discontinue placing those direct links here and now refer you to the breed clubs instead.
The Official Dalmatian breed clubs are in the best position to provide breeder referral services.

Contact your National or local Dalmatian club for breeder referrals if you're looking for a pup, or want info about adult Dalmatian adoption.

---

Always ask for a breeder's references when looking for puppies - especially their membership standing in their Official Dalmatian breed clubs.

---


... hushpuppy AT compuserve DOT com -that's where you can send questions or comments about this site...
---


---